Veteran Burial Information: What are Veterans Entitled To?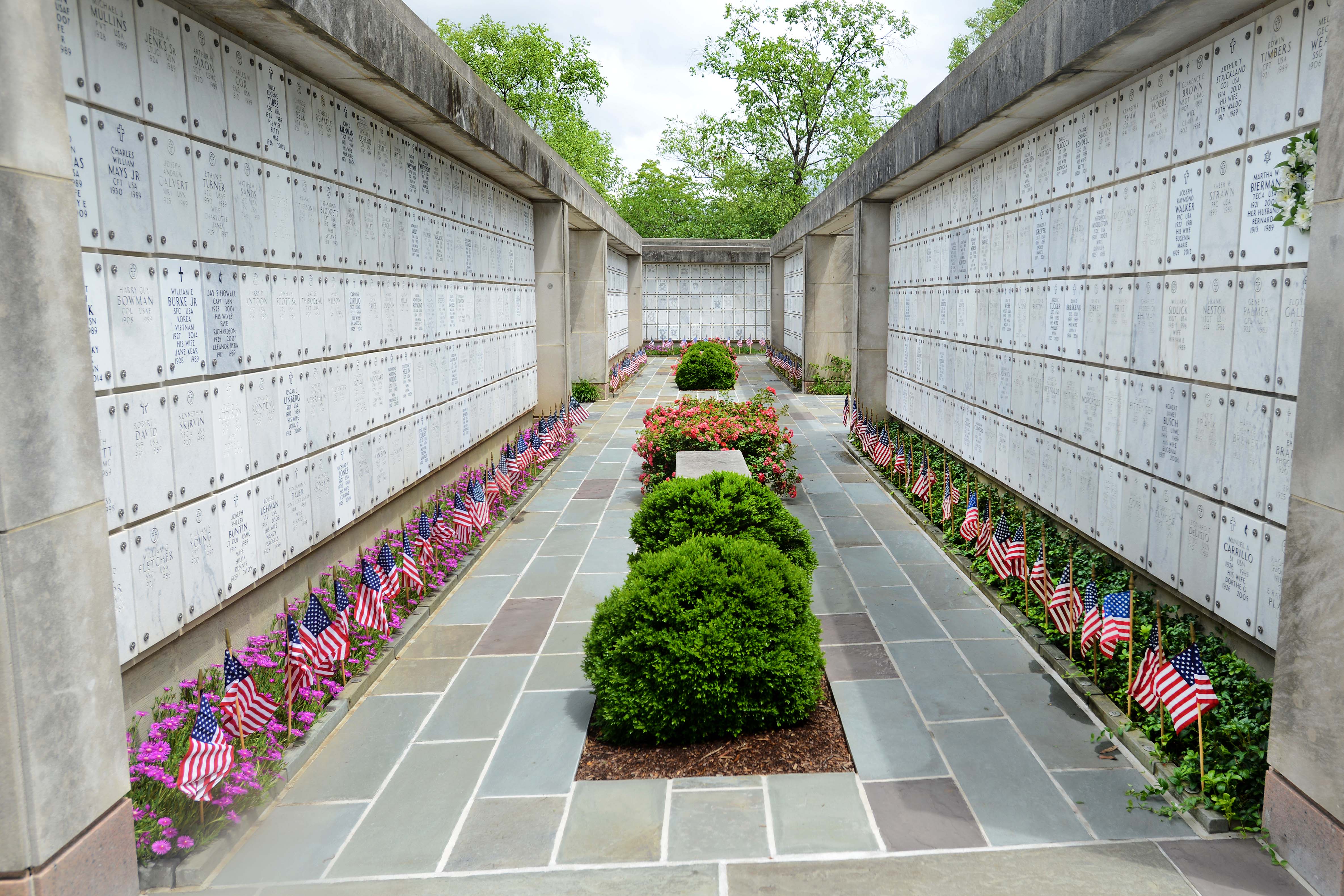 Honorably Discharged United States Military veterans and their families are entitled to a variety of benefits from the Veterans Administration upon the veteran passing away. These benefits include Interment at a VA Cemetery, Military Honors and Memorial Items at interment and monetary compensation from the VA for surviving spouses.
When applying for veterans' benefits, the most important document that is needed is the DD-214, or the military service members Certificate of Release or Discharge from Active Duty which is issued upon a military service member's retirement, separation, or discharge from active duty in the Armed Forces of the United States. If this document has been destroyed, or surviving family members cannot find it, a duplicate can be requested from the National Personnel Records Center (NPRC) in St. Louis Missouri. Click here for more information on requesting military service records.
Military Funeral Honors, Memorial Items and Re-Imbursement
Almost all veterans can receive military funeral honors at no cost. They are also usually eligible for additional free services and memorial items including:
Interment in a state or federal veterans cemetery
Military honors at the cemetery
Headstones, markers, and medallions
Burial flag
Presidential Memorial Certificate
Veterans Burial Allowance
Learn how to apply for veterans memorial items.

Interment in a VA Cemetery
This benefit is based on eligibility and availability at the cemetery. Cemeteries typically offer either earthen burial, inurnment in a columbarium or interment in a mausoleum depending on the cemetery facilities as ell as the veterans wishes.
To register for interment at a National Cemetery, the first step is to gather the required documentation and information that is needed for both the veteran and the next-of-kin. For burial in a national cemetery, fax any discharge papers to the National Cemetery Scheduling Office at 866-900-6417. Or scan and email the papers to NCA.Scheduling@va.gov with the person's name you're requesting burial benefits for in the subject line.
Then call 800-535-1117 to confirm the internment application.
Visit the National Scheduling Website for additional information
The National and State Veteran's Cemeteries offer Veterans the opportunity to pre-register for burial, thus providing some relief for veterans loved ones.
Military Funeral Honors
The Department of Defense (DOD) is responsible for providing military funeral honors. Upon the family's request, every eligible Veteran will receive a military funeral honors ceremony, to include folding and presenting the United States burial flag and the playing of "Taps." A military funeral honors detail is defined as consisting of two or more uniformed military persons, with at least one being a member of the Veteran's branch of the armed forces.
Typically, funeral directors request military funeral honors on behalf of the Veteran's family, however the Department of Veterans Affairs National Cemetery Administration cemetery staff can also assist with arranging military funeral honors at VA national cemeteries.
Headstones, Markers and Medallions
The Department of Veterans Affairs (VA) furnishes upon request, at no charge to the applicant, a Government headstone or marker for the unmarked grave of any deceased eligible Veteran in any cemetery around the world, regardless of their date of death.
Memorial headstones and markers, for individuals or groups, are furnished for eligible deceased active duty service members and Veterans whose remains are not recovered or identified, are buried at sea, donated to science or whose cremated remains have been scattered. These headstones and markers bear an "In Memory of" inscription as their first line and must be placed in a recognized cemetery.
Arrangements for setting a Government-furnished headstone or marker in a private cemetery are the applicant's responsibility and all placement costs are at private expense.
Presidential Memorial Certificates
A Presidential Memorial Certificate (PMC) is an engraved paper certificate, signed by the current President, to honor the memory of honorably discharged deceased Veterans.
Burial Flag
A United States flag is provided, at no cost, to drape the casket or accompany the urn of a deceased Veteran who served honorably in the U. S. Armed Forces. It is furnished to honor the memory of a Veteran's military service to his or her country.
How to get the Veterans burial allowance
The Veterans burial allowance, (sometimes called "Veterans death benefit") is designed to help cover burial, funeral, and transportation costs upon the passing of a veteran.
Veterans may be eligible for burial allowances if the next-of-kin is paying for the burial and funeral costs and won't be reimbursed by any other organization such as another government agency or the Veteran's employer. The person applying must also meet all of the following requirements.
One of these relationships or professional roles describes your connection to the Veteran:
You're the Veteran's surviving spouse (Note: We recognize same-sex marriages.), or
You're the surviving partner from a legal union (a relationship made formal in a document issued by the state recognizing the union), or
You're a surviving child of the Veteran, or
You're a parent of the Veteran, or
You're the executor or administrator of the Veteran's estate (someone who officially represents the Veteran)
Apply for Veterans Burial Benefits
Apyre National Cremation Services provides direct cremation services in New Jersey, Pennsylvania and Florida, and also has extensive experience with both the Veterans Administration and the scheduling the interment of veterans Cremated Remains in a national veterans cemetery. Please contact us at any time, and a licensed Funeral Director will answer any questions and assist with either pre-planning of a veterans interment, or assist with making at-need arrangements if a veteran has passed away.